Now I would like to show you the 9th work of arts from "52 weeks – 52 works of arts" challenge in 2016. This is a computer graphic.

We started to learn digital painting in the graphics school last weekend. That is to say we draw with Photoshop and digital tablet. It is interesting that we draw A5 surface with a pen, which doesn't make a dent in the tablet and appears the line on the much bigger screen. It has to get used to this, but you'd pick it up fast. We also had homework. We had to look for a digital painting and draw a similar picture. I don't have got a digital tbalet at home, so I had to draw with computer mouse. Firstly I drew contours:
After that I filled the whole figure with one colour.
The next step was to draw the shadows and lights. I drew this to three seperate layer – two shadows and one light. That's the result together:
I mean then it wasn't the result, but I retouched the picture, so it is now. Meanwhile I coloured the girl – skin and hair colour.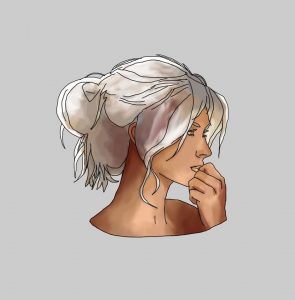 I wasn't satisfied with the hair, so I experimented with the hair on a newer layer.
In the end the two layers look like together.
And I retouched a little "in the end". This is the result: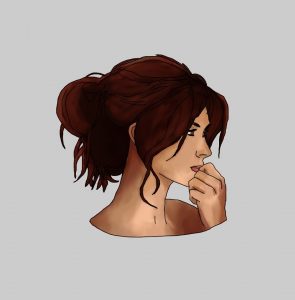 I need only "a few" hours drawing – my teacher's opinion is it's 15-20 hours – and the picture is ready. On the other hand I'm a beginner and I like it in this way! 😉