Yesterday I showed you a part of the today's picture. Now, I show you the full picture and some lessons. 😉
In old times, I bought a T-shirt in Győr (Hungary). I saw it on a dress-stand, when I was going home from the university. I usually don't buy black T-shirt, but I liked the pattern so much. It appeared that this T-shirt was the last T-shirt with that pattern. I tried on the shirt ad it's size was… It was almost small… But I knew that I wanted to buy it. So, I bought th T-shirt and I wore it only at home. But I loved it!
When the times came, the T-shirt had a new life.
The first lesson – you never ever cut out the pattern like I did. I could use the black textil later (I had some problem with the sky). But fortunately, I solved it. I imagined a forest around the girl, as if you look out between two woods and see her.
After the Paverpol dried, I painted it black.
The next lesson – the taking photos at night isn't a good idea. But this way, you can take interesting photos. Especially, if you move your hand. 😀 I feel that the moon shines…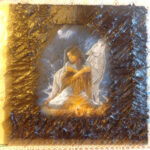 After that, I took out my other Pentart paintings (I have more color, but now I paint "only" these colors :D). I started to work out the forest and I layed on another coat of the original picture. I think it looks like better.
In the end, this is the final result on an 32 x 32 cm wood veneer:
To buy this T-shirt was a good idea, wasn't it? 😉