I mentioned a little elf in my yesterday's post. Now, I show you what the elf do amogn the stars.
I wanted to make a stars picture. I was thinking what I would create exactly. I didn't want to create only stars. After a good idea through my mind – I would create  an elf, too. But where the elf should be? He will sit on a cloud! So before I made the elf, I created the clouds on a 40 x 40 cm canvas. Now I used black Paverpol – otherwise I nearly always use transparent.
The next step was to put up the stars and create the elf. But before it, I painted the sky and the clouds.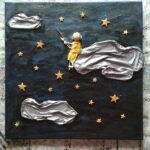 After that I painted again – the elf, the lights of the stars and the fishing rod.
And this is the finished picture. Do you venture to angle for stars at night? 😉
If you like it, share others, please! Thanks!